There was a period in my life not so long ago when I owned a few "fashion watches". I'm not ashamed to admit they were my gateway into the hobby of serious watch collecting. I had fun starting "small" with attainable brands and eventually worked my way up to bigger names and better specs (and more money). I suspect that will be my modus operandi for many years until I decide to sell everything and just wear an Apple Watch (just kidding… it ain't gonna happen).
Anyway, the person who introduced me to watches is a good college buddy of mine, and Scott has an interesting collection of timepieces. The fun thing about having watch pals is that they may have something in their collections that you would like so you get to examine it and wear it… without the investment. Heck, great watch buddies will even give you "first dibs" on a watch if they ever decide to sell it.
One of Scott's watches had always caught my eye because it had several unusual features. The watch was a square Triumph Scrambler Chronograph, model number TRIUMPH-3024-02. I thought that one day I would like to buy it if he ever decided to let it go.
When the time came for him to release it back to the wild, I did not invoke my "first right of refusal." Part of me regrets this because I really do like the way the Triumph Scrambler Chronograph looks. However, as an obsessive collector, I have to maintain a smidge of discipline, or I would have too many watches. I am sure my wife is thinking "too late!" as she reads this.
Triumph is a rebooted British motorcycle manufacturer and like many 2-wheel companies, they offer brand-related fashion accessories. Triumph even makes a motorcycle with the Scrambler name, which is a street bike that looks like it might have some off-road capability. It is unclear if this watch model is linked to it in any way like Yamaha did with the Swiss Army Watch for their MT-01 motorcycle.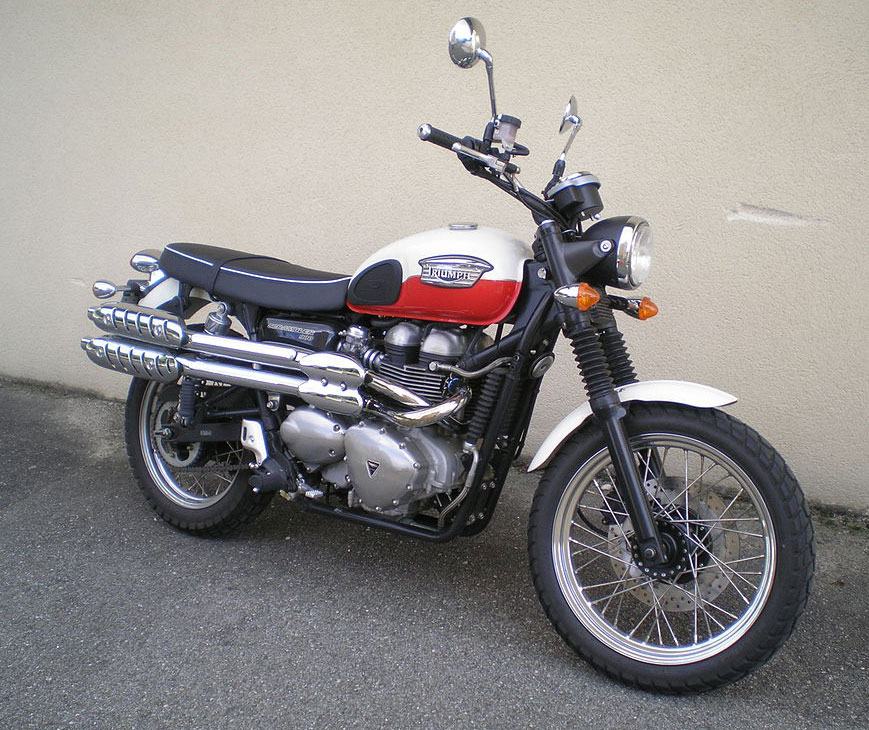 If I label the Triumph Scrambler Chronograph a "fashion watch," I am not trying to snub it. Instead, I am grouping it into a category of watches that are somewhat affordable and put more emphasis on their aesthetics, not necessarily readability, performance, accuracy or historical importance. With fashion watches you are buying a "look" to project to the world… in this case, it might be saying "I like Triumph Motorcycles".
Gee… isn't "looks" one of the drivers that make some people drop $6K on a Rolex? Yes, but one difference between serious watches and "fashion watches" is that "fashion watches" might use an integral part of a watch (like a sub-dial on a chronograph) as simply a design element. These elements are styled to be visually appealing and not necessarily designed to enhance the functionality or usability of the watch. To simplify this argument, I might say "fashion watches" favor style over substance.
If you still don't know what I mean, just look at the sub-dials on the Triumph Scrambler and notice that there are no numbers. They are used as design elements to bring interest to the dial and are not meant for serious use… At a glance, we can't tell if this chronograph sub-dial measures 30 minutes or 60 minutes… See what I mean about the function acting secondary to the appearance?
Since fashion is driven by style, let's dig a little deeper into the aesthetics of this watch. The Triumph Scrambler Chronograph is a looker, and I would have been proud to wear it. Stating the obvious, it is a square 43mm watch produced in brushed stainless steel. This 11mm tall case is so blocky that it looks like the watch was carved from a square ingot of steel… and perhaps it was. From the top, the sides of the watch appear to have no tapering and are slab-like, but the bottom of the case is slightly curved to follow the shape of a wrist. The short lugs match the depth of the watch case and end with squared-off points that hold the leather watch bands. These features should make wearing the watch more comfortable.
For visual contrast against the slab case, both the bezel and oversized signed crown feature crisp geometric knurling. This diamond pattern produces a rasp-like texture. This makes gripping the crown a cinch, and you could probably saw through steel bars with it if you ever got thrown in jail.
All joking aside, this level of production is not always seen in lower-end watches. This model cost about $200 or less. For that kind of "couch change", the designers added a few more goodies to improve the value proposition including the beautiful leather watch band with slit-like watch holes and a matching wide buckle.
There was also a handsome leather (or leather-like?) stitched presentation case. Whoever did the product design for these watches pulled off a minor miracle and should be commended for using different materials and finishes to produce a watch that looks like it should cost a bit more than it did.
I've not even gotten to the best part of the Triumph Scrambler Chronograph, and that would be the excellent dial. See that weave pattern? That is not a printed effect, and I believe that it is real carbon fiber… in blue no less!
This is not something you see every day, even less so on a sub-$200 watch. Also on the dial, are copper colored applied indices with lume, a date window that is rimmed in "copper," 3-dimensional sub-dials with circular texturing and a Triumph logo printed in dimensional silver for a beveled effect. A bright yellow chronograph needle tops off the dial and is easy to see against the blue. That is a lot of detail for the money in my opinion.
I forgot to mention the mirror polished chronograph pushers that are angled to match the applied copper indices. Those are like cherries on top of an already tasty ice-cream sundae.
While the different colors and textures might not be the obvious choices for many watch designers, they work splendidly together creating a watch of contrasts… rough against smooth, warm versus cool, polished versus brushed.
There is at least one other version of chronograph in the Scrambler collection and this is model 3024-05 with rose-colored carbon fiber and a PVD coated black stainless steel case. This watch sibling has an entirely different personality but is compelling in its own way.
The details that were put into the Triumph Scrambler Chronograph and its solid production, make this watch a winner…. especially if you can pick it up for cheap. Used versions might be difficult to find since it came out many years ago, but might be worth pursuing if you want an interesting square watch with a carbon fiber dial. Not a bad for a fashion watch. I'll label it a triumph… oh, wait it already is labeled a Triumph! Well played.