Only 50 of the Very First Airboss Mach 4 Limited Edition Watches Were Produced
Some watches are mysteries, even to their owners. This was initially the case with my ultra-rare Swiss Army Airboss Mach 4 Limited Edition. Only 50 were made, but I have only sighted 3 confirmed numbers in the series. I think that counts as ultra-rare, wouldn't you? Who knows how many are left ticking since the watch was released in 2003, but that will be a subject for a later post when I attempt to track down other Swiss Army Airboss Mach 4 Limited Edition owners. This article seeks to unravel some of the mystique surrounding this stunning watch.
First, Some Background on My Search for this Rare Watch
Before I owned my Swiss Army Mach 4 Limited Edition, I had seen it only once in a Google photo search. The image surprised me because I thought that I knew all of the Airboss Mach 4 models.
Frustratingly, there were practically no details available about this rare watch. Victorinox Swiss Army has a vacuum of information about watches in this era. It was the dark days of the internet so maybe we can forgive them.
After years of searching, this unicorn of a watch eventually blipped on my "Watch Radar". This is my homegrown system of robotic auction searches, helpful tracking software, and my obsessive personality when it comes to finding timepieces. I bought this rare watch from a salesman who used to work merchandise trade shows around the world, which is probably how he had possession of it as a promotional display.
Unfortunately, I only got the watch and not the other items that came with it. I'm usually a stickler for things like that but decided to buy it anyway because I thought I might not see another anytime soon. Luckily, I know another owner and he sent me photos of the special box and the contents including a certificate of authenticity, numbered card, and user manual. Thanks, Scott!
Victorinox Swiss Army is a watch company that produces thousands of timepieces a year, so making a small batch of just 50 watches should be unusual for them. I thought there had to be a story worth pursuing here so I contacted customer service. They were kind enough to provide the following details, however, I later discovered additional information that they left out:
It was released in 2003
It is authentic
The MSRP was $650
It came with a limited edition box, numbered card, user manual and certificate of authenticity
It was a Europe-only model (MIGHT BE WRONG)
There was no special meaning to the yellow sub-dial (DEFINITELY WRONG)
That was it… Victorinox did not provide any other information. I was about to assume it was just a design exercise and did not commemorate anything in particular. However, that is rarely the case for limited editions. Zooming into the photo provided by my buddy revealed important details.
It reads that this limited edition was created to celebrate the new Airboss Mach 4 model and that "only 100 were produced and issued worldwide" so the reason for this watch was to introduce the brand new Mach 4 model.
Wait for a second!… the number on the back of my watch and even the UPC tag says that only 50 were made, not 100. Also, the Certificate of Authenticity claims that the watch is decorated with Cote de Geneve finish, but it has blued screws instead (a feature not on the other Airboss Mach 4s). These discrepancies are interesting to watch nerds like me.
I wonder what the story is here? Maybe it was Swiss Army's best intention to make 100 watches with Cote de Geneve finishing and they ran into manufacturing issues requiring that the simpler blue screws replace the Geneva stripes. Maybe they ran into supply or timing issues so only half were made. Perhaps they changed their minds before producing the watch and never reprinted the Certificate of Authenticity. Maybe there were 2 batches of 50 for different markets, but that does not make sense with the numbering scheme. Or it could just be 2 giant typos. These mysteries remain unsolved.
While the yellow spot dial is unique to a small number of limited edition watches, the specs are similar to other Airboss Mach 4 watches. They all use large 45 mm cases that have double crowns, an internal countdown bezel, and a small seconds sub-dial at the 7:00 position. Most are powered by the hand-wound Unitas 6498-2 movement, which is related to pocket watches. I will be writing more about the entire Swiss Army Airboss Mach 4 family in a future post.
Why is the Airboss Mach 4 Limited Edition So Special?
Besides so few being produced, the Airboss Mach 4 Limited Edition watches are unique because they were the first of the breed. Also, they look like no other Swiss Army watch, which is the point of a limited edition. The large yellow sub-dial at 7:00 is the distinguishing characteristic that sets it apart. The small red second's hand also seems to be unique to this model, and I like the way it relates to the red shield of the Swiss Army logo.
Even though some Airboss models (and a few other Swiss Army watches) used yellow accents, none of them use this much of the stuff. If you are wondering "why yellow?" then I invite you to read the fascinating origin story of Swiss Army's Airboss watches.
Personalizing the Airboss Mach 4 Limited Edition with Different Watch Bands
This limited edition model came with a brown leather watch band with brown stitching and a signed buckle (the Swiss Airforce logo variation). Several of the later Airboss Mach 4's use this same watchband. To my eye, this color does not compliment the watch, however, that seems to not have been Swiss Army's intent. Since this is the launch model, they were using the watchbands that would later be used on the standard issue Airboss Mach 4s. It just did not have that much pizazz for me personally.
Luckily, straps are the easiest thing to change on a watch and the AirBoss Mach 4 LE looks great with a variety of watch bands. I never feel like a watch is truly my own until I find the perfect strap. The right combo can make a ho-hum watch into a humdinger.
It took me several attempts to find a replacement watchband that I loved. Before I spend money, I sometimes create digital mockups to explore different watchband options… as seen in the strap swap series. Pixels are cheaper than spending real money…
My first physical experiment used a black leather strap from a Swiss Army Airboss Mach 8 that I already owned. This look was pretty good since it allowed the yellow sub-dial to be the star of the show. This particular watch band added the convenience of a deployment clasp. However, I wanted to try a more playful look since all-black can be so serious. I next tried using a Luminox watchband because they are one of the other manufacturers who produce 23 mm straps. That pairing did not excite me.
Swiss Army makes a fantastic 23 mm metal bracelet that fits several of its watches, and the Swiss Army AirBoss Mach 4 Limited Edition looks good on it. I sometimes wear it for special occasions when all steel is what I want, but still, I prefer softer watch bands more often.
Changing color direction of the watchband from dark to bright, I tried to find a matching yellow NATO strap or leather band. The yellow leather is sometimes tricky to find for men's watches. So called "yellow leather" might not really look yellow and can appear pink or tan. I did not want the yellow to look "mustardy" or "lemony". Funny how colors can be described with food terms.
A perfect match was not found, but that is okay because I don't think I would wear a yellow strap, which might minimize the visual impact of the large yellow dot. To be sure, I made another Photoshop mockup. Nope, I don't like it.
My last idea seemed to work, but it might be a little flashy for some people. Instead of emphasizing the yellow spot with a yellow strap, I decided to use red to complement the color in the shield logo and the small seconds hand. I purchased a vintage red leather strap from StrapsCo, which had antiquing and darker edges to give the strap a timeworn appearance. Not being used to wearing red watchbands, my eyes nearly popped out of their sockets. It sure was bright!
A Ferarri Airboss? Am I Crazy? Perhaps a Little...
I was going to remove the red watch band when my buddy, Scott, said it looked like a limited edition Ferrari watch, and who doesn't like Ferraris? Hmm, he could be onto something. Red, black and spots of yellow are as Ferarri-ish as one could get. He sure knows how to talk me out of my comfort zone… and I have since grown to love the classic red-yellow-black combination.
My nickname for the watch is now my "Ferarri Airboss Mach 4." That works well for me, but probably not for the Italian brand, who has nothing to do with it. Whatever, this is my fantasy…
Since cars and watches seem to go together, I decided to take my newly customized AirBoss Mach 4 LE to a local Atlanta Car Show and see how it compared to real paint. I figured the color might match several red or yellow exotics. Finding a perfect match ended up being more difficult than you might think. The red was pretty close, but I wanted to match the special yellow on the dial.
I made it a game to take photos of the Swiss Army Airboss Mach 4 Limited Edition with as many interesting cars as possible. Who knew that there were so many variations of yellow in the automotive world? I'd say the Ferrari below matched pretty nicely, so my watch's nickname could stick.
What about other car brands? Perhaps, a sweet customized Porsche would match. Nope… it was more golden hinting at orange.
Maybe a bold Lamborghini Gallardo would match? Darn! No such luck here either.
How about a Mercedes SLS AMG Coupe Black Edition? No match there either because the paint was a deep metallic mustard. Too bad… that was a mean looking car and not your grandpa's Mercedes.
A cute baby Porsche 914 with a Targa top looked like a spot-on match. Not bad at all if you want a go Kart (a very nice go kart admittedly).
Soon, I ran out of exotic cars to compare so I wandered into the more affordable section of the show. I saw a rare Honda BEAT made for the Japanese domestic market with right-hand steering. The color was almost exact, but economy cars are not exactly what I wanted to associate my beautiful limited edition watch with. However, the Honda badge reminded me of something.
Just like Dorothy in The Wizard of Oz who discovers "There is no place like home," I remembered that I already had the perfect car to match my watch with a bright yellow spot sitting in my garage. Of course, I am talking about my "Spa Yellow" Honda S2000, which is more practical than a supercar, and it is already paid off. It's good to love what you already own, and no sparkly high-heel clicking was required to get it.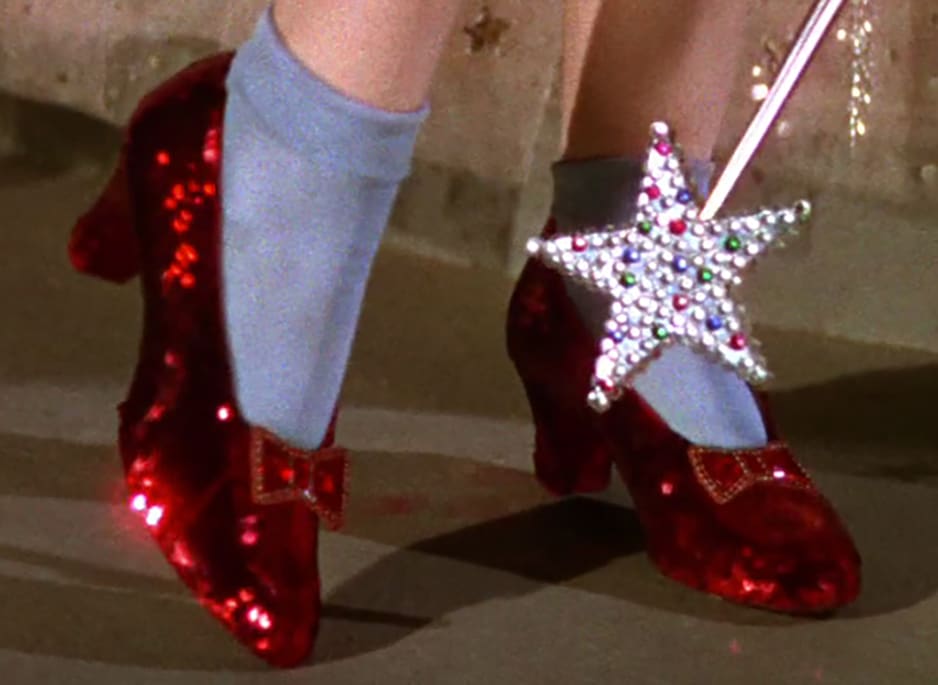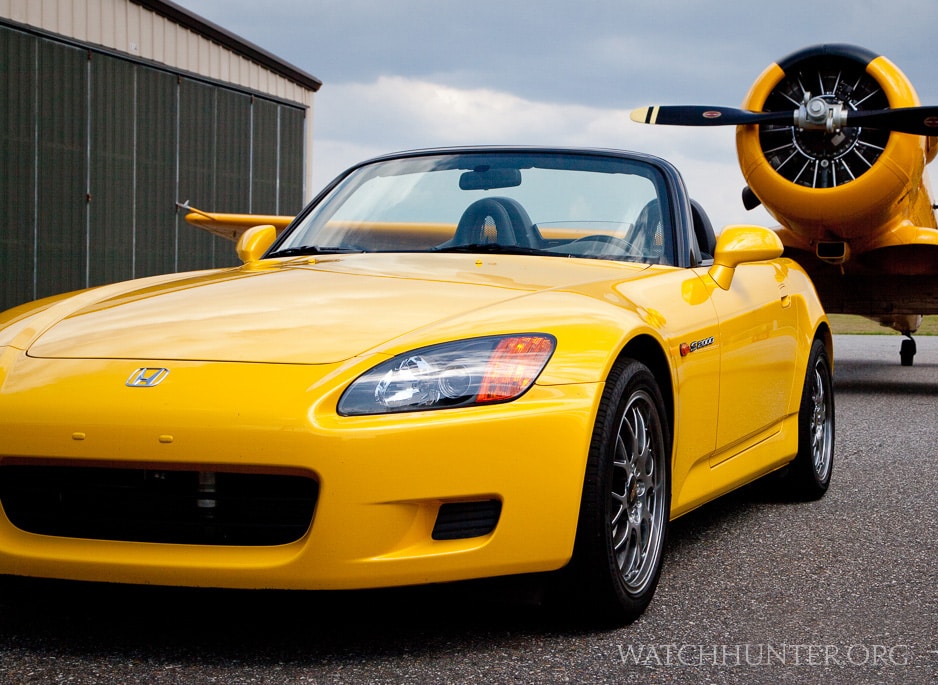 While my trip to a car show to prove or disprove color combinations for a watch and its watchband seems silly, it does prove that inspiration for making a watch your own is all around you. Just look and you might find the perfect watch/strap combo. You also might realize that you are perfectly happy with your Honda and don't really need a Ferrari.
The Swiss Army Airboss Mach 4 Limited Edition is definitely a keeper for me. Knowing that I have the 2nd one ever made (#2/50) makes it even better… and #2 is 1 louder than #1, right? Yeah… of course, it is.