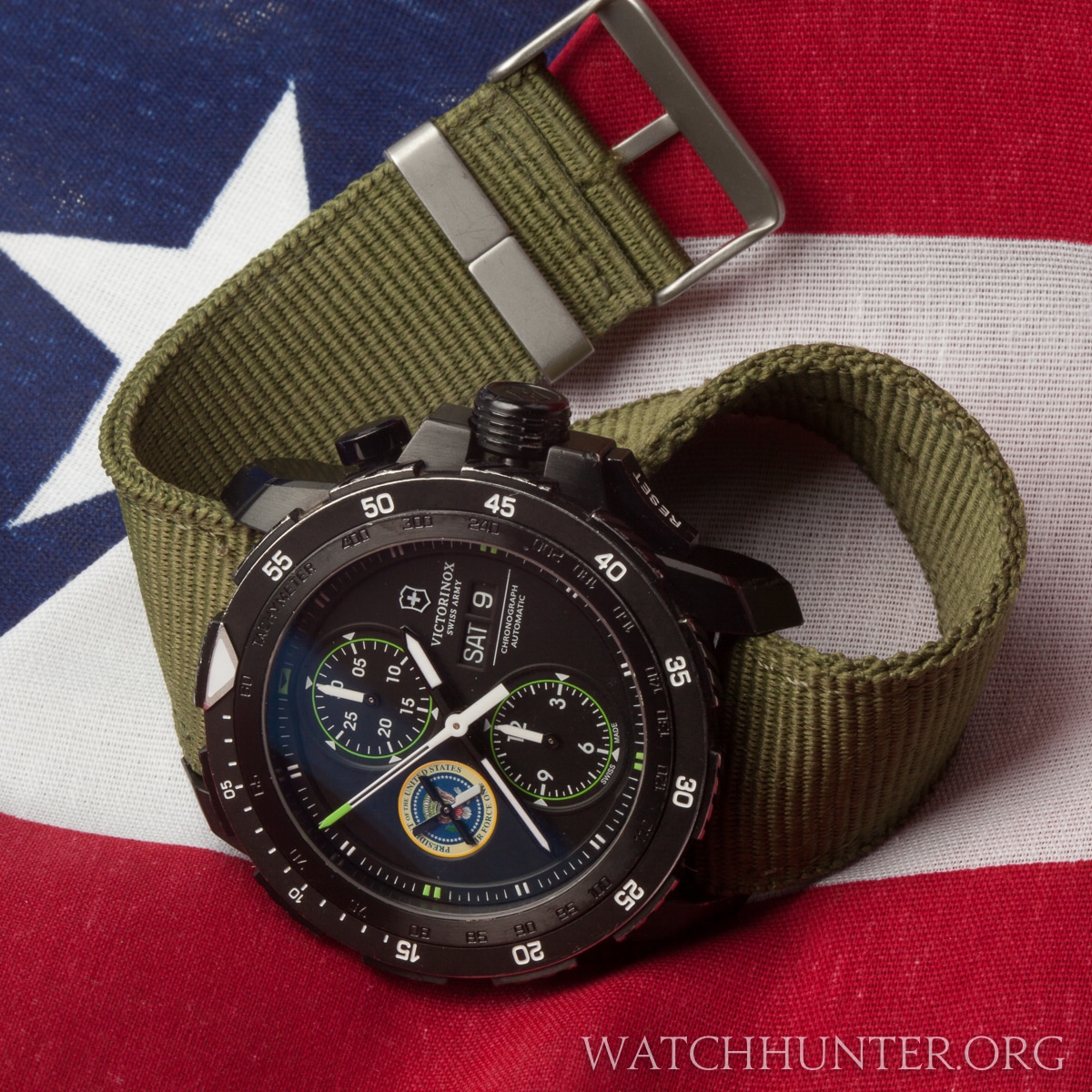 Swiss Army made a private edition watch for Air Force One. It shows the Air Force One / Presidential seal.It's the United States presidential debate season leading up to elections so I wanted to give an update on a watch that is related to the President… but more specifically, his gigantic flying headquarters when away from the White House. I introduced this watch last year in the article MEET THE WATCH SERIES: A Truly Presidential Special Edition Alpnach Watch by Victorinox Swiss Army.
I had come across this Swiss Army watch model #241527 while browsing eBay and asked the seller if I could write about it. Because I could not afford his asking price, I did everything that I could to help him sell it. I suspect that most people did not know what it was, which is part of the problem of selling a rarity. This watch was not advertised nor did it appear on any web sites or catalogs. There is no pricing or sales data because this model was not sold to the public.
It was, in fact, a special limited series made for the people related to Air Force One. Whether this is pilots, maintenance and flight crew, I just do not know. I was told by the seller that 4 presidents were given the watch as well. I cannot confirm this with absolute certainty, but it seems plausible. Check the original article for more on that.
UPDATE (7-30-2017): I was contacted by the owner of #43 and he is NOT a president or even with AirForce One. It looks like there is more to this story…I'll post more as I find details.
The watch had been given to him by someone he greatly respected, so he wanted it to go to a new owner who would cherish it and honor its history. That someone ended up being me. He allowed me to pay what I could afford, and I am grateful for his generosity. He was a heck of a nice guy.
Once I had the watch in my hands, I took clearer photos. I tend to wear this watch on a military green canvas band that picks up the green accents on the dial. I still have the black OEM strap, but more contrast works better for my sense of style. Swiss Army tends to use dark bands, but I prefer more color and contrast to personalize my watches.
One of my favorite features is the series number engraved on the outside of the watch. "70 out of 77" works for me because my birth year was 1970. Many limited edition numbers are hidden on the case backs so this is unusual. I wonder if they started with more watches and ended up with just 77 due to the complexity of printing the presidential seal or if 77 was picked for a specific reason.
This watch is hefty weighing 5.5 ounces on the canvas strap. However, it is not the weight that makes its presence known as much as the case width of 46 mm (49 mm with crown) and a height of 15 mm. This is just tall enough that my scratch resisting countermeasures don't always work. Watch guys tend to rotate their wrists away from door jambs or abrasive wall corners. It is what I like to call "using wrist radar". This keeps our cherished watches looking better for longer. I have probably knocked this watch more than any other that I own, but the sapphire crystal and tough PVD coating have withstood the bumps.
Below you can see the worn edges on the PVD in the bezel. The previous owner wore off the edges of the anti-reflective coating on the sapphire crystal. The coating appears blue in off-angle lighting. Areas without the coating appear hazier, though you do not notice this while wearing the watch.
This watch is no lame duck, and it was worn extensively but the previous owner. That takes the pressure off of me to keep it pristine. In fact, I really like the way that the PVD is starting to wear on the ridges of the bezel. Like a well-used firearm or tool, the surface wear shows that the watch was taken on adventures. Check out those asymmetrical chronograph pushers. Very cool.
I was interested in getting macro photos of the special seal. The details are amazing considering that there are 9 colors printed in alignment with little room for error. This takes precision production at such a small scale of only 8.5 mm (.335 inches). Here is what the official presidential seal looks like for reference.
The seal at the 9 o'clock position on this watch is a modified version of the 1960 presidential seal, and Swiss Army captured it with great fidelity. It is full of symbolism and tradition.
Obviously, there is a bald eagle wearing a patriotic shield. To me, the wings are not in proportion, but this eagle does not need to fly. The number of stars on the outer border changed over the years to reflect the states in the union, ending today with an even 50. The eagle is holding a scroll reading "E PLURIBUS UNUM" translating to "One from many". That is the motto of the good ole US of A.
There were 13 original states when we rebelled against England. As such, the seal obsessively refers to that number repeatedly with the 13 stripes in the shield, 13 clouds and 13 stars above the eagle. The eagle is holding an olive branch in one talon and arrows in the opposing talon meaning that the President has the power to make peace and war. Yep, you guessed it… there are 13 arrows and even the olive branch has 13 leaves and 13 olives. Who said 13 was an unlucky number? Not the designer of the seal, that is for sure.
All the detail is there including feathers, arrows, and even microscopic words. "Wow!" is all I can say. The inks that were used appear to be a mixture of matte and metallic colors including red, white, dark blue, light blue, pale yellow, lemon yellow, golden yellow, dark green, metallic light green, metallic silver, brown and black. These have to be applied in order without registration errors. I can speculate that the more colors applied, the greater the chance of an alignment error.
Even so, the brown used for the feathers is slightly misaligned and the eagle's beak does not seem to be filled in with yellow color. Was that an oversight or intentional? I would love to talk to the person(s) who printed this to see.
Ironically, the spinning propeller that obscures parts of the elaborate seal represents a helicopter rotor for a different aircraft, which is the Eurocopter Cougar helicopter used in Switzerland. That is a different story found in the article "Commemorating a Helicopter Airbase in Switzerland with the Victorinox Swiss Army Alpnach Chronograph Series". The Boeing VC-25, a modified 747, is jet driven but the use of a propeller as the small second's indicator can be forgiven because it is universally a symbol of flight. I suppose that Swiss Army could have modified the propeller into a single hand with an arrow on one side and olive branch on the other, but I think that is okay that they used the same part as other Alpnach models.
This limited edition was based on an existing chronograph model, the Alpnach #241527, but that does not diminish its rarity or the complexity of printing the minuscule presidential seal. Obviously, some cost saving measures had to be used and modifying existing parts has to be cheaper than making just 77 custom parts. Victorinox Swiss Army is not a custom watch maker, but a large manufacturer so this made-to-order model might be as custom as it gets for them. This one wins my vote as one of my favorite watches.